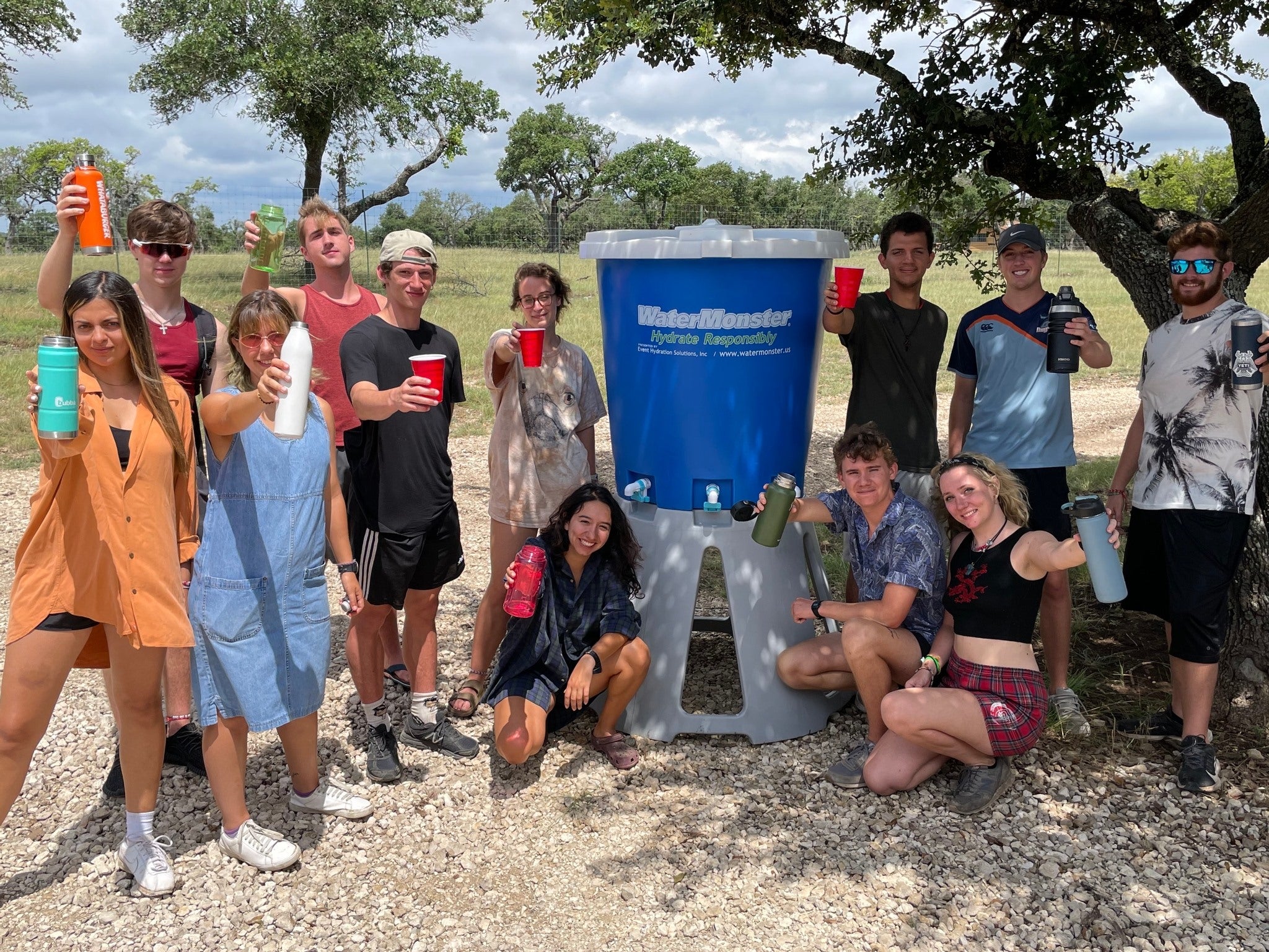 Your Mass Hydration Solution
Faster
Fills in minutes with a common water faucet
Offers 6 outlets, with options to greatly expand
UltraSpout dispenses at 6 oz per second
Light weight for EZ set-up and tear-down
Simple to clean and sanitize
Safer
Hands-free, or Touch-free dispensing options
Optional carbon WATER FILTER cleans your water
Food Grade safe
125 gallon size quenches a thirsty crowd
Great tool for Risk Management on those hot days
Greener
Helps reduce single use plastic bottles
Encourage participants to refill their bottles
Convert to "Paper Cup-Free" running races
Custom BANNER WRAPS offer a more green powerful advertising billboard.
Why People Love WaterMonster
★★★★★

Watermonster has become a great option in the sports medicine world for Athletic Trainers. Some rival schools have had this product, and our only hesitation was the fitting on Gatorade coolers, vs powerade and Rubbermaid. Needless to say, they fit our Gatorade coolers great, even without the drill bit to open the hole.

Timothy R. Bennett, MBA ATC/L
★★★★★

Second order of these for us! They are working great so far and in my opinion they are teenager proof which is a huge plus at the High School level!

MB DeFrancesco, MA, ATC
★★★★★

Our Volunteers told us they would not participate if the WaterMonster was not being used next year.  Total game changer filling cups for our 1/2 marathon. All the best

Dan C.
★★★★★

The WaterMonster really saved the day for our campers.  Our staffers had a hard time keeping those 5 gallon coolers full.  WaterMonster to the Rescue! Thanks,

Bill C.
★★★★★

Our plastic bottle waste was virtually eliminated once we introduced the WaterMonster to all the school kids.  Everyone knows to bring their refillable bottle now that we own a WaterMonster. Thanks for making a difference!

Janet R.
How do you fill a WaterMonster tank?
Watch this instructional video to see several different ways to fill
How much water does it hold?
125 Gallons, equal to 1,000 16oz plastic water bottles or 25 five-gallon coolers. For running races, it will serve 3,000 five oz servings.
How do you get the water cold?
To get room temp water ice cold, add 200lbs of cubed ice. 200lbs of ice melted is 25 gallons of water, equal to 1/5th of the tank capacity. This water will be cold all day. However you can always add more ice if you desire. For some events, 125 gallon might be overkill. Simply fill the tank ½ full and use ½ the ice. If you use 8-10lb block ice, it is critical that you fill the tank ½ full before dropping the ice blocks in the tank. Doing so with an empty tank may crack the bottom of the tank. This will void your warranty. We also sell insulated wraps to help further keep the water cold.
How do you clean it?
Watch this short instructional video for details
How long does it take to ship?
A WaterMonster order typically takes 7-14 days to receive it. There are several factors to consider. Your WaterMonster kit will ship via freight. It will be 4ft x 4ft. The height will be dependent on how many tanks you purchase. One tank will be 4ft tall, up to 5 tanks on a single pallet will be 8ft tall. It is ALWAYS best to use a business shipping address with a loading dock or forklifts. Otherwise, we will schedule a truck with a liftgate. Residential shipments must schedule appointments with the carrier. It is also more expensive.
We palletize your order, then coordinate an LTL carrier to pick it up. From order date to pick-up date is typically 3-4 days. Our warehouse is located just north of Dallas TX. Depending on where you are located, it will be an additional 3-7 days for actual delivery. So 7-14 days is a good rule of thumb. Obviously, there are real world situations with the trucking companies that are out of our control, but we can track and contact them if there are delays. If you purchased some accessories, it is likely they will ship inside your WaterMonster tank. BANNER WRAPS ship separately. We also have a fulfillment center in Denver CO. If you order accessories without a WaterMonster tank, your order will ship from Denver. Shipping time is faster. Depending where you are located, expect 3-7 day delivery.
We typically don't offer express overnight delivery, however, contact your sales rep to inquire.
Can you move the WaterMonster once it's full?
This practice is STRONGLY discouraged. Once full, the WaterMonster weighs over 1,000lbs. Plus all the weight is on the top half, making it a tip hazard if you try and move it. At this time, we don't offer a solution to safely move a completely full WaterMonster tank. Place the tank and stand in a location where you want to use it, then fill it. You should always place it on a flat level surface. Grass, sand, dirt, gravel and turf are all safe surfaces.